Social media – a hackers' favorite target
Currently, according to
in depth statistics
, there are
more than 1.6 billion social network users
worldwide with more than
64% of internet users accessing social media services online
. Moreover, social networking is one of the most popular ways for online users to spend their time, and a preferred way to stay in contact with friends and families.
This is precisely why cyber attackers love social media as well! Users that spend a lot of time on social networks are very likely to click links posted by trusted friends, which hackers use to their advantage. Here are some of the most popular types of cyber attacks directed at social media platforms:
Like-jacking: occurs when criminals post fake Facebook "like" buttons to webpages. Users who click the button don't "like" the page, but instead download malware.
Link-jacking: this is a practice used to redirect one website's links to another which hackers use to redirect users from trusted websites to malware infected websites that hide drive-by downloads or other types of infections.
Phishing: the attempt to acquire sensitive information such as usernames, passwords, and credit card details (and sometimes, indirectly, money) by disguising itself as a trustworthy entity in a Facebook message or Tweet.
Social spam: is unwanted spam content appearing on social networks and any website with user-generated content (comments, chat, etc.). It can appear in many forms, including bulk messages, profanity, insults, hate speech, malicious links, fraudulent reviews, fake friends, and personally identifiable information.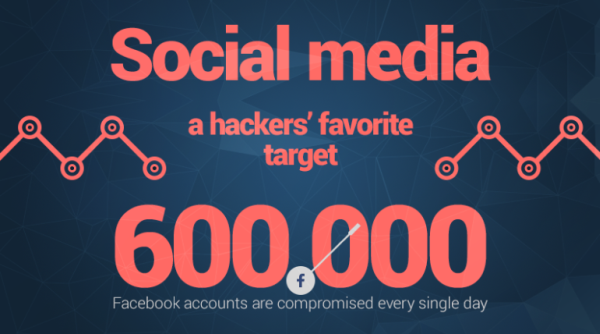 Why are cyber attacks on social media so frequent?
Because social media users usually trust their circles of online friends. The result: more than 600.000 Facebook accounts are compromised every single day! Also, 1 in 10 social media users said they've been a victim of a cyber attack and the numbers are on the rise. Now this is a cyber security statistic which we don't want you to become part of.
How it affects you and what can you do to get protected:
Don't click any strange links.
This is courtesy of HEIMDAL.