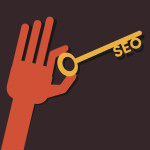 Keywords are at the foundation of any SEO campaign. People search using keywords and the purpose of SEO is to ensure that your website matches these search queries in order to generate organic search engine traffic from target audience members. To determine how target audience members are searching, the first step of an SEO campaign is to conduct keyword research. Once you have determined which keywords to target, the next step is to incorporate them into your website content. So, what exactly does that mean? Where do your keywords go? Here is a guide to the most prominent places you'll need to naturally incorporate your keywords for SEO gains
Title tags
The title tag is arguably the most important SEO element on each page of your website which is why it's critically important to include keywords, preferably at the beginning of the page title. Not only do the search engines pay attention to the title tag for ranking purposes, but it's also the first thing that searchers see on the SERP and it can influence click through rate. The search engines only show a certain amount of text in the title tag, which is why it's best practice to keep it under 55 characters (including spaces). If you go over that character limit the dreaded "…" might cut off the end of the title tag, which isn't very attractive or professional and can result in lost clicks.
Description
The meta description doesn't hold direct SEO value but it can encourage click throughs which indirectly impacts rank (the search engines pay attention to which sites are generating the most clicks from their results pages and favor them accordingly). Think of the description as the sales pitch for the page. Use language that includes keywords and encourages the click. Search terms included in the description will be bolded search results, telling the searcher that the page is relevant to their needs. The character limit for the description is 150 characters.
Website owners should always be reading through their content with an "SEO eye" – on the lookout for any spot to incorporate a targeted keyword naturally. For example, if you're mentioning "our clients" add a keyword to make it "our [service offered] clients." This gets the keyword in there for SEO purposes but doesn't disrupt the flow of the content. Don't worry about keyword density, that's a thing of the past. Instead, look for natural opportunities.
The use of keywords has evolved but they are still one of the most powerful SEO strategic attack plans used to get leads and rankings. Remember, your website is a living document, keep it current, keep adding to it.
Nore to come soon.
Joe Rossini